Meet St. Nicholas, the gift giver behind the legend that spread around the world.
Join us for International Food and holiday fun at this FREE family event.

The 7th annual St. Nicholas Festival will be bigger and better than ever!
Saturday, December 2, 2023 from 11-3 PM.
Vendors wanted!
Reserve a Vendor Booth to sell your arts and crafts!

Events
International Food
Kids Crafts
Nativity Petting Zoo***
Saint Nicholas Walk
Craft Vendors
Church Tours
Choir Performance
Ugly Sweater Contest (1 kid & 1 adult winner)
Bingo (prizes!)
Dessert Auction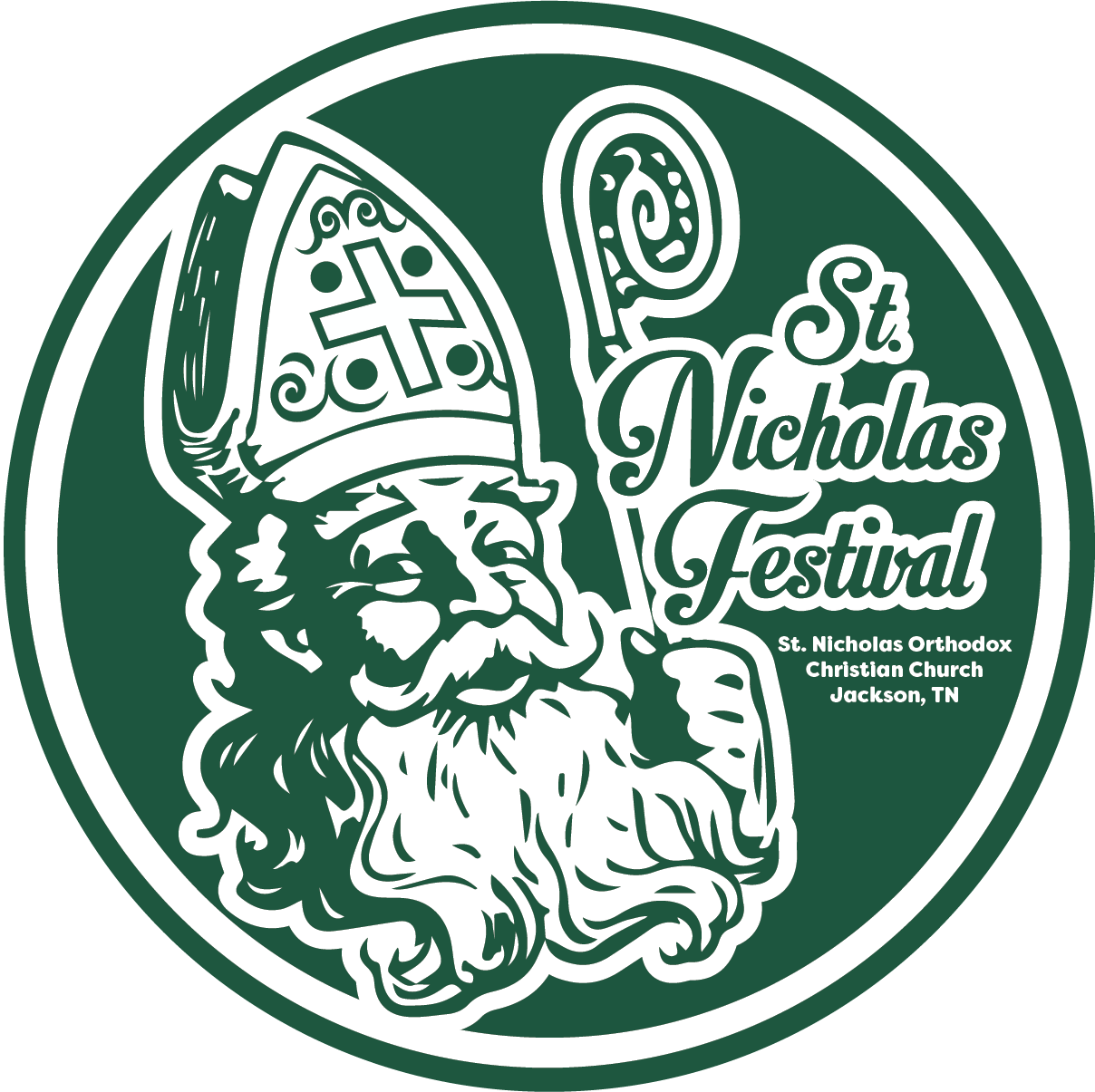 INTERNATIONAL FOOD
Baklava, Piroshki, Hummus, and more!

ST. NICHOLAS WALK
Learn about the real St. Nicholas and the generosity that inspired the holiday!

NATIVITY PETTING ZOO
Enjoy a free petting zoo with Nativity Animals!

CHRISTMAS SHOPPING
Arts and Crafts from Local Vendors!
MUSIC PERFORMANCES
Traditional Byzantine Music performances by the St. Nicholas Orthodox Choir!

CANNED FOOD DRIVE
Bring canned goods to benefit the St. Brigid Food Pantry!

TOYS FOR TOTS
Bring unwrapped toys to donate for the Toy Drive!

PARISH TOURS
Learn about ancient church history, art, and the Orthodox liturgical tradition!

FAMILY FUN
Craft sales! Cookie Walk! Dessert Auction! Coffee and Cocoa! FREE Bounce Houses! Ugly Sweater Contest! (Prizes for Adult and Kids category) Balloons and Candy! FREE Crafts for Kids! Photobooth! Fire pit! Bingo!
FAQs

1. Who is St. Nicholas?
St. Nicholas was a Christian bishop in 4th century Myra (modern day Turkey) who was especially known for his generosity. The Church commemorates him on December 6 during the Nativity season, so he became associated with gift-giving at Christmas. He is one of the most beloved Christian saints celebrated around the world, and he is the patron saint of our parish. Read more about his life.


2. Why do you have an International Menu?
The Orthodox Church is a global church, organized into national jurisdictions, such as the Greek Orthodox Church or the Russian Orthodox Church. St. Nicholas is part of the ancient church of Antioch, where "they were first called Christians." (Acts 11:26) Because the U.S. is still a relatively young country, we do not yet have an American jurisdiction; and so you'll find Greek, Russian, Antiochian and other Orthodox churches begun by immigrants and missionaries. St. Nicholas is the only Orthodox Church between Memphis and Nashville, so our parish is made of Orthodox families of many nationalities and heritages. This is a common in the U.S. as we work toward building an American Orthodox Church. In the meantime, it creates a diverse community built around a common, ancient Christian faith. And it means a lot of great food! Our International Menu reflects various heritages present in our parish.

FOOD FAQS ​
• The GREEK baklava and spanakopita are both made from phyllo dough provided by the owners of Grecian Family Restaurant in Lexington! Spanakopita is made with spinach and feta, and baklava is a sweet, non-dairy dessert. Don't miss Nick's Greek salad, tossed fresh by Nick himself with oil and spices.

• Our RUSSIAN piroshki are made with beef and dill from Elaine's grandma's recipe, served with sour cream, or enjoy a potato variety for vegetarians and fasting. Masha's yummy, hot borscht is a delight to the mouth and eyes! You may also enjoy her beet salad with potato, beets, and cilantro.

 • Freshly-made JORDANIAN hummus is better than anything you can buy in stores. If you haven't had it made from scratch, you have to try Emily's! This year Emily is also making fresh grilled beef kabobs that you won't want to miss!

3. How much does it cost?
Admission is FREE, however, there is a suggested donation of 1 CANNED GOOD per person. The food drive will support the Little Free Pantry. Admission gives you access to all of the events including the St. Nicholas Walk, church tours, the fire pit, bouncy house, and free kids' crafts and activities. Inside you can shop in the St. Nicholas Marketplace or order from our International Menu.

4. What is the Little Free Pantry?
The Little Free Pantry (LFP) is a little pantry located in our parking lot across from the mailbox. The LFP is an extension of St. Brigid's Food Pantry, and is intended to address food insecurity and develop community among our neighbors. We stock it with non-perishable food and toiletry items for anyone with a need, as well as after school snacks and fun treats for our neighborhood kids. While the parish at St. Nicholas maintains the LFP, anyone is welcome to stock or take items from the pantry. In the spirit of both St. Brigid's hospitality and St. Nicholas' secret generosity, we invite you to participate with us in this effort.